The Cosmopolitan of Las Vegas has always been a "choose your own adventure" destination, in which you can pack a lifetime of experiences into a single visit or overindulge in the one that you've been longing for most.
This applies to weekend getaways and, especially, weddings. With so much more to offer than the on-the-fly nuptials Las Vegas is known for, The Cosmopolitan has become the go-to resort for curious couples in search of something both extraordinary and personalized – a forever reminder of their romance.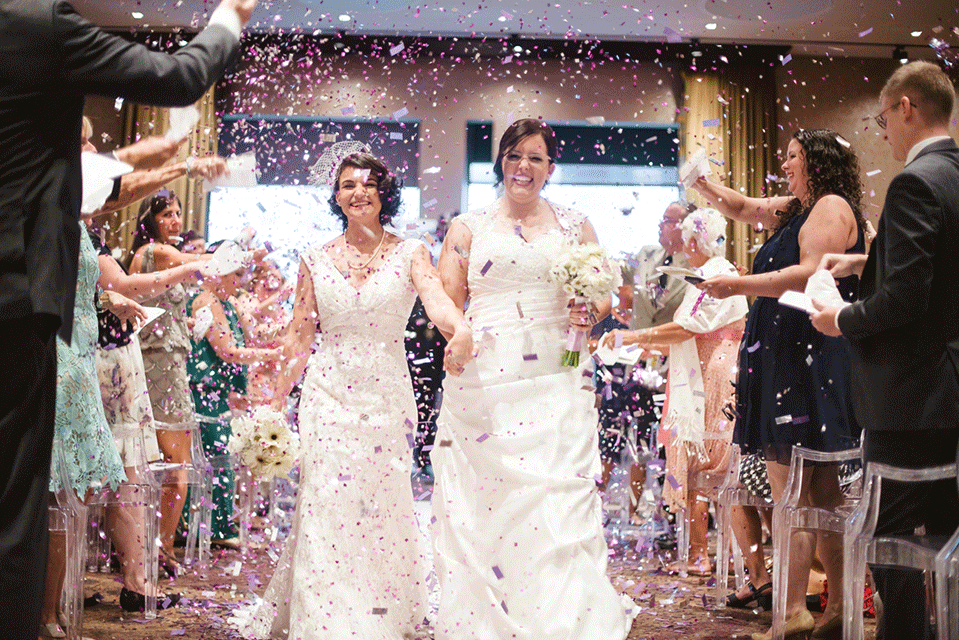 "To play a role in someone's love story is so rewarding," says Wedding Sales Manager Jackie Powell, a self-proclaimed "Cosmopolitan Baby" who began her career with the resort in 2014. Throughout her tenure, Powell has expanded the resort's lineup of wedding packages, allowing couples to craft an experience that takes full advantage of The Cosmopolitan's services and secrets.
In Las Vegas, every season is wedding season, but Powel took a quick break to give 52 Stories her best tips for planning a wedding at The Cosmopolitan.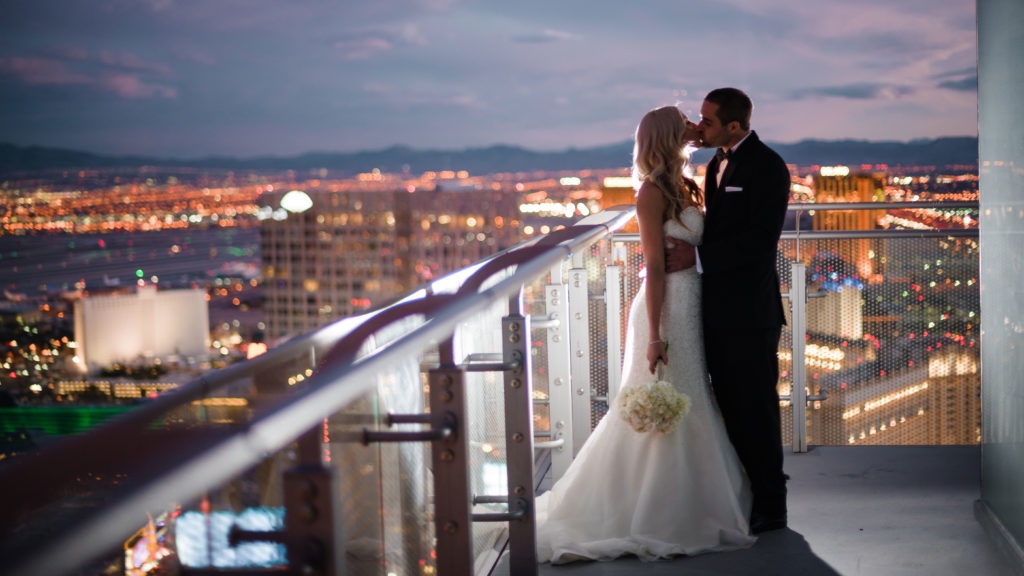 1. Embrace the Unconventional
Cosmopolitan weddings have never reflected the cliched image of tying the knot in Las Vegas. The "King" has most definitely left the building, and in place of a tiny chapel you'll find a bevy of customizable, unconventional venues to exchange vows.
Among the most popular options, Powell notes, are the In-Suite Elopements and Wedding Suite. The former is an all-inclusive, intimate venue that includes personalized floral arrangements, accommodations for up to 10 guests and officiant services. The latter is also a customizable experience offering premium views of The Las Vegas Strip from The Cosmopolitan's Boulevard Tower.
Additionally, couples can say their "I do's" against the backdrop of several world-renowned Cosmopolitan locales, including The Chandelier, the Strip-side Boulevard Pool, and the Garden Terrace at acclaimed restaurant Estiatorio Milos, among the 22 options available.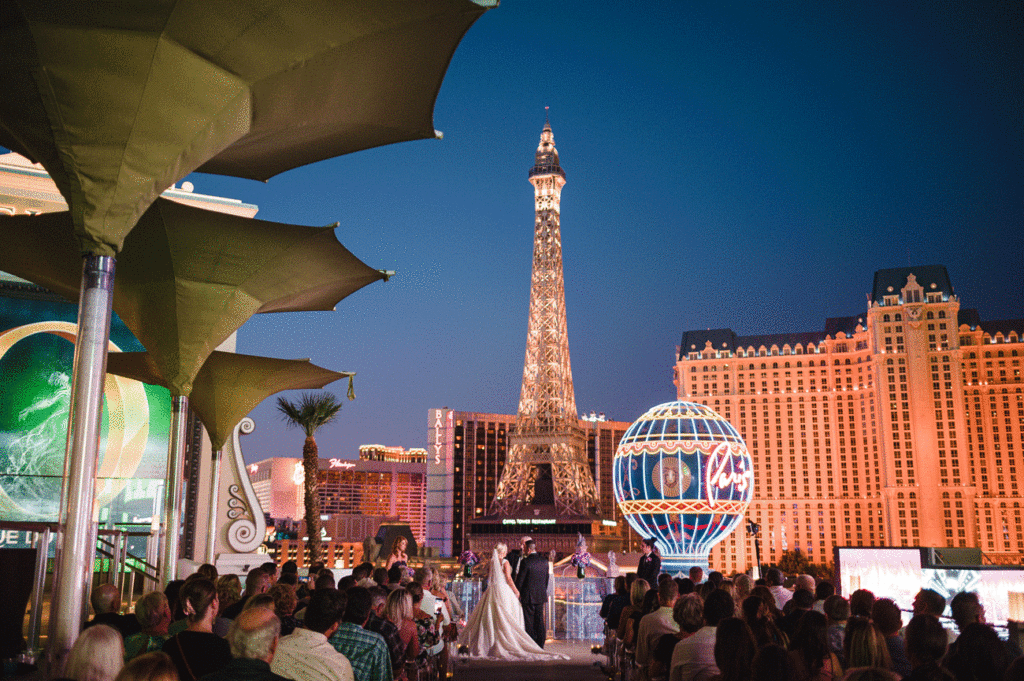 2. Get Creative With Your Wedding Plan
Bachelor and bachelorette parties, receptions, ceremonies, after parties – there's so much more to a wedding than walking down the aisle, and The Cosmopolitan allows you to get creative with your choice of experiences.
"I'm currently working with a group that really wants something different," Powell says. "So, they're going to host an event at Barbershop, have their rehearsal dinner at Zuma, wedding at The Chandelier, and reception at Rose. Rabbit. Lie.; with cabanas by the pool and brunch at Wicked Spoon the next day."
If it all looks so good that you don't know where to start, Powell can help. As Wedding Manager, she's there to accompany couples during their visits, as both an escort through the property and, more importantly, a dependable shoulder to lean on.
"I get very attached and my couples get very attached to their planner," she says. "Last weekend, a couple that married at Boulevard Pool had an anniversary, and we sent them an anniversary cake. That's what I love most, I'm a people person. I probably couldn't do weddings anywhere else; I'm obsessed with the experiences we offer."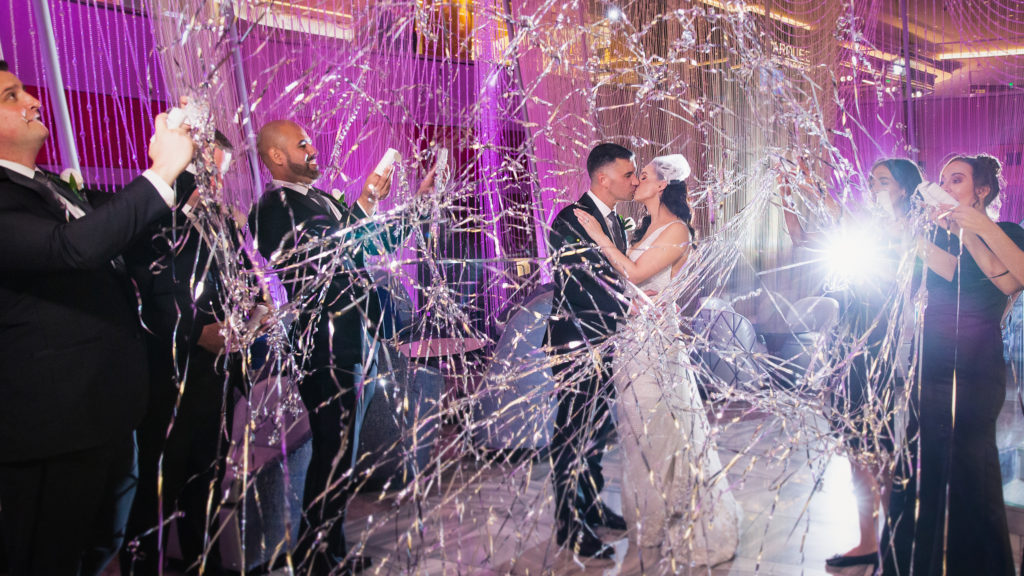 3. Pose Like You Mean It
As wedding photos are forever keepsakes, Powell has worked to redefine the photography experience for Cosmopolitan couples; replacing the traditional staff photographer with true artists that will design your photo layout with you before your wedding day. When your photography experience is over, you'll get a link to your images, with the ability to download them at no cost. That means no watermarks on your prints and no hidden charges. Your photos belong to you.
4. Reward Yourself
If you're a member of The Cosmopolitan's groundbreaking Identity Rewards program, you'll earn rewards for allowing the resort to host your wedding. Powell says that many couples who have been married at the resort return for their anniversaries, using their rewards to enjoy another trip to Las Vegas.
This wedding perk not only applies to Identity members, but also those with a Marriott Bonvoy membership.
5. Bring the Family, Pups Included
As the home of the original "Puppy Love" wedding, The Cosmopolitan of Las Vegas has always been the Strip's preferred destination for dog owners. As members of the family, why would you leave them at home? Dogs are not only invited to the wedding, but every pup gets its own Pupjoy box upon check-in.
No matter your vision, there's a wedding venue at The Cosmopolitan to suit your unique tastes.