"The universe is made of stories, not of atoms."

– Muriel Rukeyser
We're all storytellers. It's part of human nature. Everyone has a story to tell, and each one is unique simply because of the voice telling it.
52 Stories is the collective voice of The Cosmopolitan of Las Vegas, a unique luxury resort and casino located in the heart of the world-famous Strip. And we like to think that the voices you'll hear on this blog are as distinctive as our resort, with its Swarovski crystal-draped bars, Art-o-Mat vending machines and first-to-market restaurants such as Momofuku, Milk Bar and Eggslut.
In each article, we share original stories on a variety of topics, from expert travel tips and trendsetting cocktail recipes to interviews with musicians, chefs and interior designers. Be sure to subscribe to receive the latest articles, and feel free to send us your feedback using the form below. We want to hear from you.
Why 52 Stories?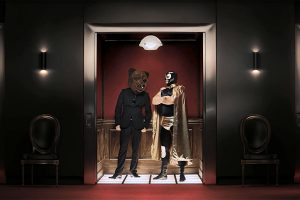 "52 Stories" is a digital art installation at The Cosmopolitan of Las Vegas, featuring a series of elevators in which a cast of curious characters pass through the lobby. Guests of the resort witness only a brief glimpse at each story, leaving the rest to the imagination – and setting the stage for a story of their own.
Likewise, the 52 Stories blog provides a starting point for visitors to create stories of their own. By sharing the most compelling information about travel, dining, culture, design, music and much more, we hope to not only entertain and inform, but also inspire readers to craft new experiences and explore more.
What's your story going to be?
Contact Us
Tell us your story.