It's simple, really: all tequila is mezcal, but not all mezcal is tequila. Just the way all Scotch is whiskey, but not all whiskey is Scotch; or all Pauly Shore movies are bad, but not all bad movies star Pauly Shore.
The two spirits are inextricably linked, differentiated by the type of agave from which they're distilled, and where they're produced. They're both robust, eclectic and delicious in their own rights–and both used to great effect from pillar to post in cocktails across The Cosmopolitan of Las Vegas. Tequila can only be produced in five Mexican states from either of two types of agave. Mezcal can be produced in eight states from more than 40 types of agave, but we're going to talk about just one right now for the uninitiated: espadin.
Ignacio "Nacho" Jimenez, head bartender at mezcal & tequila bar Ghost Donkey, likes to start newcomers on espadin mezcals for their accessibility. And start you should. Smoky, deep and enticing, mezcal is enjoying a surge in popularity in American bars right now, and with good reason.
"I always try to go with a basic explanation of trying to make [newcomers] understand the differences between tequila and mezcal," Jimenez said. "One of the big differences is the variety of the agave used, and how mezcal is more like the earth. We always start them trying espadin, which is the most common harvested plant. It's not a wild agave, it's planted by humans. It's probably the spirit most well-known for being terroir-driven—the conditions in which the agaves grow, and the traditions of the family. You try to highlight both things to make people understand how special this product they're trying is."
Open a discreet door at the back of the Block 16 Urban Food Hall, squeeze inside to Ghost Donkey, and you'll enter a glowing nook rife with enough string lights to keep the Christmas spirit in your heart year-round. It's a speakeasy that seems like the tequila, mezcal and nachos were put in place first, and the walls erected barely around them—the way all construction should be handled, really.
With more than 50 mezcals and 30 tequilas on the menu, and a food selection that consists of nachos and nachos alone, Ghost Donkey knows its lane. And that lane runs right down the middle, with a selection of cocktails so preternaturally balanced, they make Simone Biles in a gyroscope look wobbly by comparison.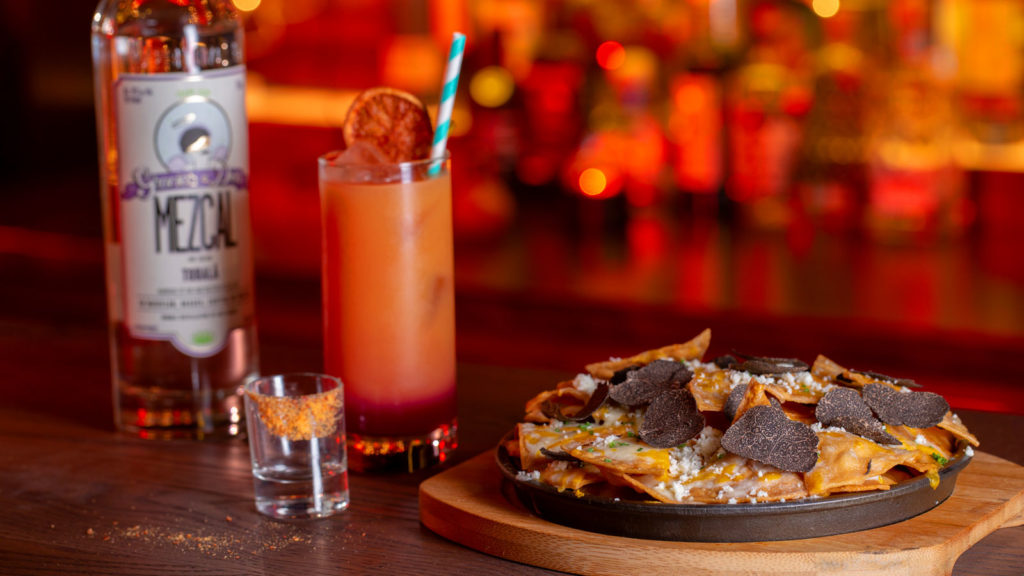 Ghost Donkey's Mezcal Sun-Risa builds off Del Maguey Vida mezcal and Tequila Cabeza, adding in bitter orange, habanero and hibiscus. You're cheerfully greeted by orange, and smoke from the mezcal chases the tequila's heat down the back of your throat, but the whole affair is so well-balanced that an aromatic spiciness only slowly reveals itself.
Mezcal is also dispensed to great effect in the Mole Negroni, standing in for gin in the usual arrangement, while Campari is relieved by a platoon of Cynar and Zucca Rabarbaro amaro, supplemented with Cocchi Torino vermouth, bitters and, of course, mole spices. It comes off like the best possible kind of chocolate orange (the kind that involves hooch, natch), broad and formidable as it stakes its claim on the old war-horse.
"I didn't just want to do mezcal, Campari and sweet vermouth," Jimenez said. "The challenge was to pair Campari with a spice. They're pulling to two different sides. I had to come up with the Cynar and the amaro to provide those bitter flavors. The amari blend in perfectly with those chocolate flavors and fruity notes."
Of course, Ghost Donkey doesn't have exclusive domain on mezcal, even within the walls of The Cosmopolitan. Upstairs at Beauty & Essex, they figured out Ahab was chasing the wrong target. The White Whale barrel-ages El Silencio mezcal, Dolin Blanc vermouth, Cocchi Americano and apple bitters. Barreling does the neat magic trick of giving mezcal an almost Scotch-like character. Sadly, barrels don't turn everything into Scotch, or else we'd be stuffing one full of old newspapers, loose change, and our dreams of playing centerfield for the Yankees.
Meanwhile, neighboring China Poblano stays on-brand with both Mexican and Chinese flavors coming alive in La Vida, which uses Cazadores Reposado tequila, Bigallet China China–itself a French liqueur made from orange peels–agave nectar, serrano and spiced hibiscus tea. We count three continents represented in that drink alone.
Want to get a few more stamps on your mezcal passport? At Level 2 of The Chandelier, you'll find the Kiss & Tell, which features Silencio mezcal (North America), Avua Amburana cachaca and pineapple shrub (South America), Amaro di Angostura (distilled in South America, but European in spirit), and ancho chai syrup (Asia by way of the Americas again).
And there you have it. Now you know that when it comes to mezcal vs. tequila, there's no need to choose. You only have to say "yes." Who ever said you'd never learn anything spending all your time hanging around bars?