Las Vegas has become a foodie mecca over the years thanks to its ever-evolving culinary scene. Once known for its bountiful buffets, the city is now famous for being home to countless restaurants from almost every celebrity chef imaginable. However, it wasn't until recently that discerning diners on The Strip had more options for a quick meal on the go that delivered the same type of quality and flavor one would find at a sit-down restaurant.
When The Cosmopolitan of Las Vegas opened its Block 16 Urban Food Hall in 2018, the resort prided itself on bringing some of the country's most beloved fast-casual dining concepts together to create the unique dining destination. Not surprisingly, when discussions began on where to open a second location of Chef David Chang's popular Bāng Bar outside of New York City, Block 16 — which is just steps away from Chang's Momofuku Las Vegas — was the natural choice.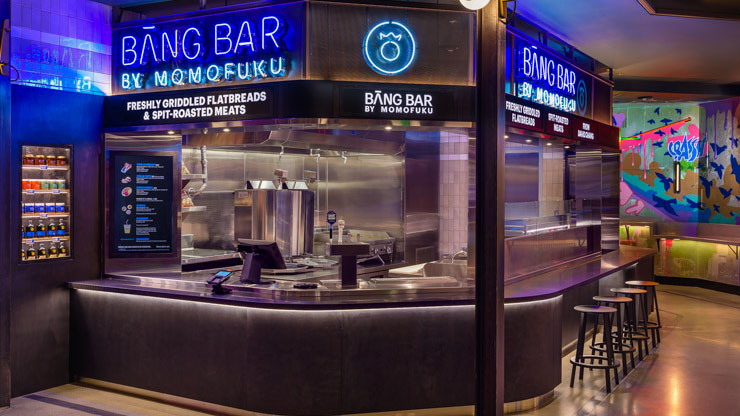 "At Momofuku, you can get everything from a bowl of ramen to a large-format fried chicken and caviar feast for 10 of your friends — but we don't have any dishes that are meant to be eaten on the go," said Marguerite Mariscal, CEO of Momofuku. "So, we wanted to offer something at an approachable price point with all of the flavor that people have come to expect from our restaurant, just in a portable package."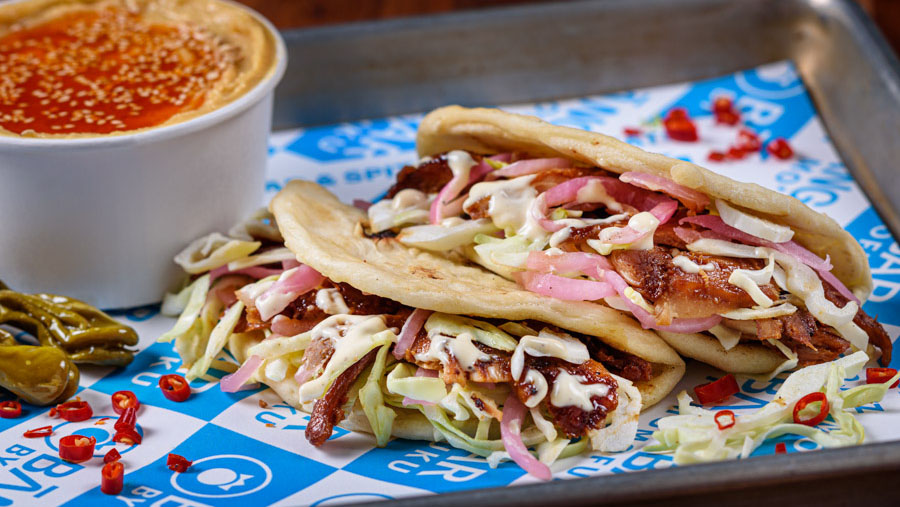 The Inspiration
Inspired by Chang's travels filming the Netflix show "Ugly Delicious," where the James Beard Award-winning chef noticed how certain cuisines were cross cultural, Bāng Bar (bāng means bread in Korean) made its West Coast debut on April 1. The sleek, 250-square-foot eatery specializes in a menu of spit-roasted meats and freshly griddled flatbreads with distinctly Asian flavors.
"The restaurant is supposed to bring together a bunch of foods and traditions, which is sort of like Las Vegas," Mariscal stated. "It has this energy that's fun and exciting: you can see the spits turning, cooks slicing the meat off them and rolling bread out and griddling it. Everything is a show, which is extremely Vegas. There's nothing hidden."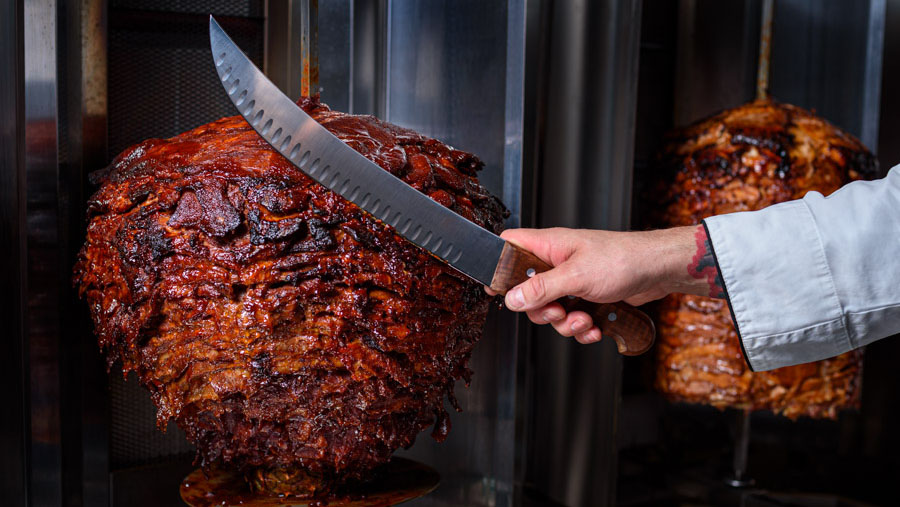 What's on the menu
Proving quality is more important than quantity, the menu at Bāng Bar is fairly simple. Guests can choose from Teriyaki Chicken, Spicy Pork marinated in gochujang or Spicy Eggplant made with Thai chili and savor their selection in a freshly griddled flatbread or rice bowl. While each option explodes with flavor, the Spicy Pork U Wrap served in a thin, crêpe-like griddled flatbread with pickled onions, a white garlic-type sauce and a red gochujang sauce is a must for first-time diners.
Guests can pair one of Bāng Bar's signature dishes with a variety of scrumptious sides (try the chilled Pickled Shishito Peppers) and wash everything down with a beer or Blood Orange Negroni on tap — a first for the Bāng Bar concept.
"We're always trying to tweak each location so that it's right for the city, and we thought it would be a great idea to have some fun cocktails from our Momofuku beverage team on tap," Mariscal explained.
Non-alcoholic drinks are available, too, including a refreshing Yuzu Lemonade, and there's a selection of pre-packaged snacks guests can enjoy on the go.
Bāng Bar is open daily from 11AM to 10PM, making it an ideal spot for a quick lunch in Las Vegas or a late-night snack.
"Bāng Bar fits so many occasions," Mariscal concluded. "If you're looking for something extremely craveable and delicious, I would encourage guests to stop by and get a taste of Momofuku in a different package."