A chanteuse roves past your table. A tap dancer leaps atop a piano. Hot jazz music accents glowing, evocative lighting. Gourmet dishes arrive. Adventurous mixology happens. Welcome to the culinary and entertainment kaleidoscope that is Rose. Rabbit. Lie. This extraordinary supper club inside The Cosmopolitan of Las Vegas is like a fantastic world unto itself, thanks in no small part to the seasonally refreshed menu overseen by Chef de Cuisine Steve Gotham. The latest version includes a stunning repertoire of starters, entrees and desserts that unite vibrant, exciting flavors and textures with gorgeous visual appeal, all paired with otherworldly cocktails concocted by The Cosmopolitan's head mixologist, Mariena Mercer. Let's take a look at what's new, what's different, and what's still great…
Birds of a Feather…
Served in a whimsical, pretty blown glass in the shape of a feathered friend, Birds of a Feather… is a lyrical blend of Grey Goose Melon vodka, fig liqueur and Chardonnay-cardamom reduction with blood orange and blueberry juices. Try not to smile after sipping this bright, crimson-hued elixir from the built-in straw.
Caviar Tacos
Rose. Rabbit. Lie.'s signature Caviar Tacos are a highlight of the dining experience. This appetizer takes shape as Yukon gold potato shells filled with glistening orbs of hackleback roe, plus a bit of hamachi for good measure. It's the perfect meeting of crunchy texture and savory minerality.
Through the Looking Glass
This potent but accessible potable is a bracing blend of Patron Reposado tequila, Novo Fogo cachaça, caramelized pineapple, chipotle, and lime juice. It's served with sliced fruit (orange and starfruit) and aromatics (including star anise and rosemary) in a striking metal-and-crystal decanter. Shaped like a vintage ship's porthole, it's a symbol of the evening's gastronomic voyage—one that just happens to be filled with an audacious, lip-smacking beverage.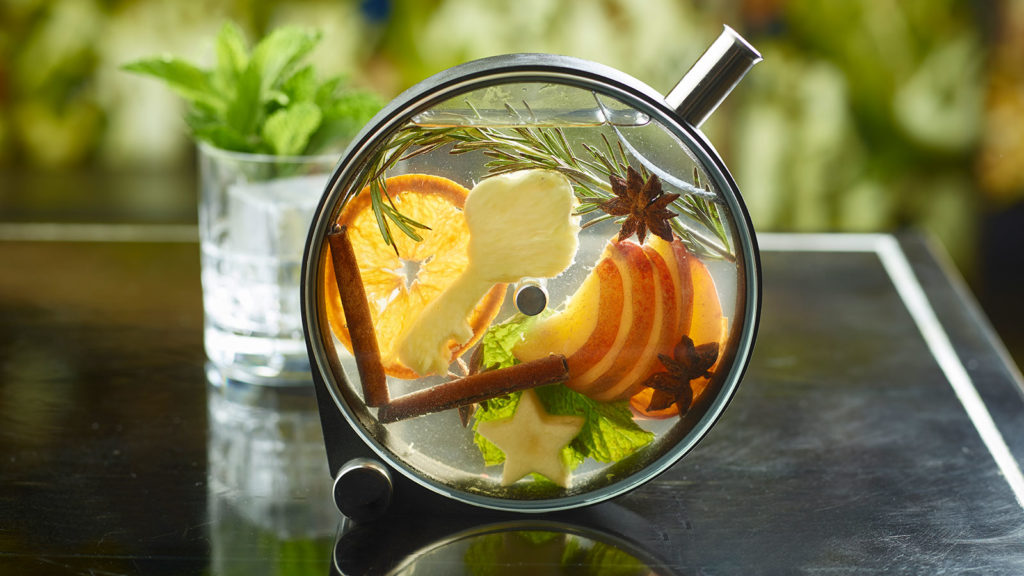 Crab Louie
The new Crab Louie is a dramatic reinvention of the much-loved seafood standard. How do you upgrade from the gold standard? Start with crispy fried soft-shell crab. Then side it with an avocado roll stuffed with even more sweet crab. Add asparagus spears, roasted tomatoes and a soft-boiled egg. Everything is brought together with dressing that's been enlivened with fiery Korean gochujang chili sauce. This dish zings.
French Onion Soup Popover
Another re-imagined classic, the French Onion Soup Popover takes the notion of its Gallic inspiration and turns it around 180 delectable degrees. Instead of a crouton in a bowl of broth, this popular choice features a tear-apart popover. Take bits of the soft but nicely crusted puffed bread and dip it into tall ramekins. One's filled with irresistible sherry-onion gravy, the other Gruyere cheese spread. It's another playful dish.
Slow Roasted Octopus
Among the restaurant's menu items, the Slow Roasted Octopus is perhaps the slyest. At first glance, it sounds relatively simple. But then there's a list of enigmatic ingredients: confit tomato, black sponge and sea beans. What's black sponge? It's a light, cake-like baked creation that's been tinted with sepia, shredded and dried to appear like dusky pieces of sea coral. Along with the richness of the tomatoes and the vegetal freshness of the sea beans, it provides a nautical nest for nicely charred sections of eight-armed mollusk.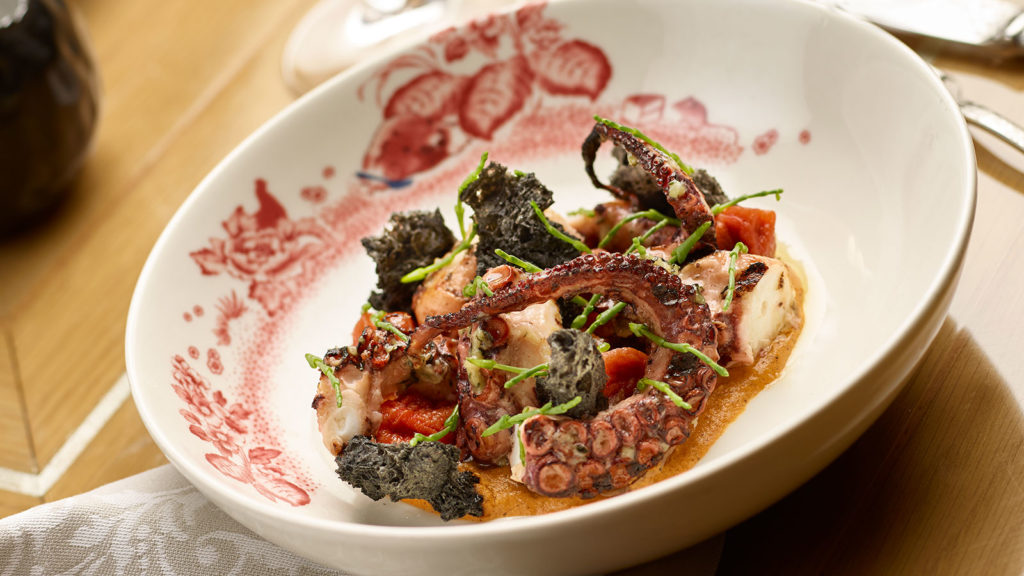 Beef Wellington
When it comes to all-time gastronomic greatest hits, Beef Wellington is in elite company. It starts with the highest quality Prime Tenderloin beef. Then seared Hudson Valley foie gras, roasted king trumpet mushrooms, creamed spinach and black truffle are brought into play. Talk about umami! And while most articulations of Beef Wellington feature a puff pastry shell, here it's served as a crispy lattice dome over the scrumptious steak and adornments. It's like edible architecture.
Uncommon Goods
The refined Uncommon Goods cocktail incorporates Bacardi Banana rum, Avuá Amburana Cachaça, Amaro Meletti and salted peanut syrup. It's filled with tropical allure, and was designed to pair with desserts like the eye-popping Chocolate Terrarium. Imagine yourself strolling through a garden made of chocolate pudding, chocolate-buttermilk cake, chocolate "soil," meringue mushrooms and hazelnut ice cream. You'll think "too pretty to eat" for 10 seconds before you grab your fork and start excavating.