Chris Audler, Stephen Cali and Aaron Vogel were friends and colleagues for years before they launched New Orleans' cult favorite District: Donuts. Sliders. Brews. in 2013. With their craveable creations now available at Block 16 Urban Food Hall inside The Cosmopolitan of Las Vegas, we caught up with the three co-founders to learn more of the story behind their successful (and rapidly growing) dining concept.
How did you guys go from friends to co-founders of District: Donuts. Sliders. Brew.?
Stephen Cali: I was working for a medical group at the time, and kind of not interested in working in restaurants at all. Chris was vice president of a restaurant group in [New Orleans], and I met with him at a Starbucks or something like that, and I said, "Man, you should start a restaurant." He would always talk about cool recipes he had, all these different ideas for what a different restaurant looked like. We had a few conversations, and he was like, "Actually, there was another guy that I've been talking to about this."
Well, Aaron and I knew each other since I was a teenager. And [Chris] said, "I'm gonna have this other guy I've been speaking to about a different concept call you." I remember being at my other job, and I get a call from Aaron. I'm like, "Hey man, I'm waiting for a really important call. Make it brief." And sure enough, he's like, "I am that call, idiot." And it's been a steady up and to the right ever since, baby.
Aaron Vogel: We kind of tricked him into the company.
What about the name District? How'd that come to be?
Chris Audler: I remember the phone call with these guys, just spitballing names for probably two hours-ish. I have no idea how many we went through, but "District" came up. Because we knew we were in the Lower Garden District. And I think when we said it, everyone chimed in very quickly, like, "Oh, wait, that sounds right." It's got the alliteration. "District: Donuts. Sliders. Brew." The way it came together just felt right.
Why did donuts feel right for New Orleans at the time?
Chris Audler: We looked around, and there wasn't anyone really highlighting donuts in the city. So we cued into donuts real fast, but the space was [already] dictated. We knew where we were going to be. So, very quickly, we said, "Wait a minute. We all have families. Donuts in 2,000 square feet isn't going to pay the bills." Then it was a race to figure out, "Hey, what are we going to do as an additive piece to this?" We almost lost donuts for a while. We were about to toss that idea out because we couldn't figure out how to make it work in such a big space with so many people on the line for it. So that's when the rest of the concept came through.
Aaron Vogel: We wanted to do breakfast, lunch, and dinner. We wanted to be a space where people could come morning, noon and night. You know, donuts and coffee are just mornings, so we said, "Let's meet them at the slider time. Let's meet at the snack time if they want to come in and get a quick fried chicken slider or a sandwich and a dinner. Obviously, donuts are great for dessert as well." So, our concept was built out to really meet the needs in the neighborhood, breakfast, lunch, and dinner. That was really important for us.
Everything at District is made fresh in-house, right?
Chris Audler: Yeah. We're an all-scratch kitchen. We do everything from scratch, and we prefer to do that because we think to get the finest product, to get the premiere product, you've got to fish around and find the right ingredients, find the right combinations to get there. We've done it from the beginning, we've set out to continue doing it. It's been successful so far.
What are your top successes on the menu? What are the ones that you are most psyched about that everybody loves?
Stephen Cali:  It's every single item. Every single item, we love. It's the best. It's the best house salad. It's the best cheeseburger slider. It's the best chocolate blackout donut.
Chris Audler:  Something we talk about constantly is this idea of category killers, right? Like if we want to put out a cinnamon roll, until we hear from everyone we come across that, "Hey, that's the best cinnamon roll we've ever had." That's our aim, that's our goal. So we set that across everything. We talk about it consistently. Like, "Hey, if we're going to put a product on this menu, we really don't want to compare it. We want to be set apart. We want to be the best version of that." That's been important to us in every piece. So when Stephen says, "Hey, the whole thing," I mean, that's literally in the DNA. This is how we're going to make food.
Stephen Cali: And if you have our chocolate chip cookie, you'll agree with me.
What are some of your personal favorites from the menu?
Stephen Cali: I eat the same thing every day: the best little house salad ever without croutons, without goat cheese, and then I get a side of chicken. Every day that's what I eat. So that's my favorite thing. And if it's a day of decadence, I'll get a cheeseburger slider, add extra bacon, cheese fries, and a donut.
Aaron Vogel: One of the items I really love putting in front of people is our croquenut. We take a donut, we cut in half. It has no glaze or sugar on it. And who has ever had a donut sandwich with ham, Havarti cheese, béchamel sauce, some Dijon mustard, and then a sunny side-up egg on top, coming out of a panini press? Those are the things that I've taken particular joy in being able to serve, the stuff that you just can't find other places.
What about your favorite donuts, specifically?
Chris Audler: Banana pudding donut. It's just the comfort level of banana pudding, like something everyone grew up on. I think we've done a good job of making that work inside of a donut platform. It just reminds me of spring, for whatever reason. Is banana pudding a spring thing? That's what I feel like. Feels like Easter. 'Cause you don't serve it at Christmas, you don't serve it at Thanksgiving.
Stephen Cali: My favorite donut is the chocolate blackout donut. I say there are fruity people and there are chocolate people, and I am definitely a chocolate person. So if you put me in front of a chocolate blackout donut, I will eat the whole thing, no remorse.
Aaron Vogel: I have two favorite donuts. One accompanies a dad joke. The chocolate blackout. I love to tell our guests, "It's so chocolatey you might just blackout." It is awful. The joke goes over so well with all of the guests. Semisweet chocolate pudding, dark chocolate glaze, cacao nibs, and then a house-made chocolate cookie on top is unbelievable. And then our peanut butter cup donut as well. We make our own peanut butter cups in house, dark chocolate glaze, and then a peanut butter mousse on the inside. Two or three bites, and that's all I need.
"Every single item, we love. It's the best. It's the best house salad. It's the best cheeseburger slider. It's the best chocolate blackout donut."

– Stephen Cali
How do you choose which donuts get served every day?
Aaron Vogel: We have a spreadsheet that pumps out which donuts we're going to serve on a daily basis. And they rotate every single day. We have a surprise for the guests every single day when they walk in the door. So if a guest is in New Orleans for three days and they find us, and they come day one, and then they come day two, and they come day three, it's a different experience every single time.
And these donuts are all very, very different. Part of that selection process, you know, Chris will say, "What's delicious? What do I want to eat? What do I want to drink? Can it be served inside of this delicious dough?" And the answer is always, "yes."
What's the District approach to developing new donut flavors?
Chris Audler: If we find something we think is delicious—"Hey, can we turn it into a donut? Can we find way to replicate that in a donut fashion?"—we'll put something together. We will try it. It might be thumbs down, this is terrible—it might be thumbs up. There's often mixed reviews.
We've done some pretty wild ones. The red beans and rice donut comes to mind, which tradition is, Mondays you have red beans and rice. We didn't really have an outlet for red beans and rice in what we did, so we were like, "Oh, can we do that as a donut? Can we figure this out? Maybe not exactly the traditional red beans and rice, but what does that look like in donut form?" So that's one that lived for a while.
Maple sriracha was one of our opening donuts that lived for a while with candied thyme. And these things come in and out of season. We'll do them for a year, and they'll fall into this rotation—I think if we took total donut rotation now, it's probably like mid-200s to 300 donuts. A lot of them maybe don't get another play, but they're out there, the recipe for them.
Is there a recipe that you all tried and just unanimously agreed, "no, this doesn't work?"
Chris Audler: Early on in the days here, before we believed in timers or anything like that, we burned a lot of donuts. You know, you move in a thousand ways, and you forget, "Oh wait, donuts in the fryer." So I think one day, we had a little excess time on our hands, and some came up burnt. And for whatever reason, we're like, "Hey, can we do a blackened version of a donut? We are in New Orleans, you can get away with blackening seasoning, you do a little Hollandaise or something on it."
We rolled out for that day a blackened donut with Hollandaise. It was technically a burnt donut. We wanted that carbon-y favor, but we wanted this blackening seasoning on it, with spicy, with Hollandaise. I forgot what else was on it. But that would be unanimously terrible. I mean, okay, they order, like, "Oh, this is delicious." I'm like, "Oh, it's a burnt donut."
Aaron Vogel: It's awful.
Stephen Cali: You know, I like everything. I love everything that Chris makes. Chris is a great chef, and his recipes are the best. So if he puts something in front of me, I'm hard pressed to say no to it, honestly.
Obviously, coffee and donuts is a classic combination. What kind of java can people find at District?
Aaron Vogel:  We're partnered with Stumptown out of Portland (Oregon). We've been serving their coffee for a bit now, and it's delicious. We're serving things like Vietnamese iced coffee on our draft system, our cold brew over ice, or nitro cold brew as well. We do a small ode to New Orleans and throw in a little bit of chicory inside of our cold brew coffee.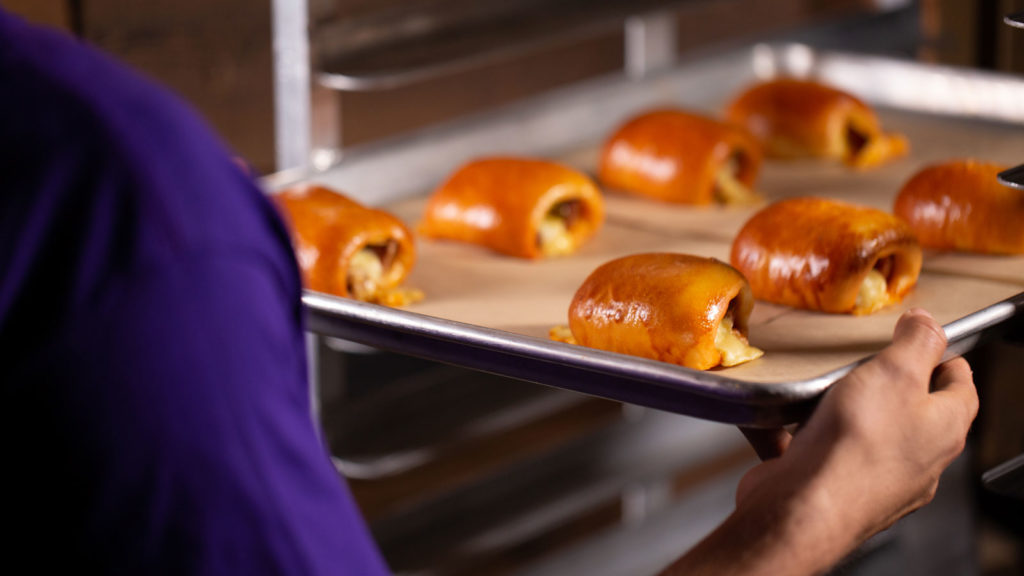 One of your more interesting menu offerings is a selection of kolaches. For those unfamiliar, what are they?
Chris Audler: Number one question in District: Donuts is "what are kolaches?" Kolaches have a Czech history, and then the state of Texas has done a very good job of proliferating the kolache, at least in the form in which we do it, which would be the more savory version. We take a sweet dough, we wrap it around a savory of sorts. We do a smoked sausage, [candied] jalapeño, and white cheddar. And we do a New Orleans smoked sausage, so it has a little Cajun spice in it. And then we do a bacon, egg, and cheese option. It's a warm dough, savory inside of it. It's three or four bites, handheld, so a perfect little breakfast option.
The Cosmopolitan location is your first outside of Louisiana. What made the resort—and Las Vegas in general—a good fit for District?
Aaron Vogel: The Cosmopolitan feels like the type of environment that we would set out to build if we were going to do a hotel and casino. Our goal is to never do a project that feels like it's pushing into an environment that we really don't fit inside of, that doesn't make sense for us. So when we got to Las Vegas and we spent some time in The Cosmopolitan, the design, the space, the build out, the hospitality, the commitment to excellence in the particular products that were already there, the collection of restaurants that The Cosmopolitan has already found—when we got there, we looked at each other, we're like, "This makes a ton of sense for us to be a part of something like this."
Stephen Cali: For me, it's an honor to be a part of Block 16. Whenever I walked into The Cosmopolitan, you walk in, you see the beautiful lights, you see everything's clean, it's immaculate, it's just done with excellence, and it's so cool on top of that. Whenever we talk about the type of brand we want to build, the type of restaurant we want to be, it's one that it executes at a really high level, yet it's also very cool, it's hip, and it's somewhere you could bring your family. I feel like there's a really cool synergy between the District brand and The Cosmopolitan.
What's most exciting to you about District being in Las Vegas?
Chris Audler: The most exciting part about being in Vegas is we get to touch a new neighborhood. That neighborhood is so far away from where we started, but it truly is another spot for us to really influence and be part of and dig into the community there.
Stephen Cali: I love being on the Strip. I'm really excited to be able to reach people that we can't reach in New Orleans, people who are coming to have a great time, some people bringing their families, some people just going by themselves and looking to party. But we're all about providing people a great time with great food, and doing it in a really consistent and excellent way.
Aaron Vogel: Everything, as I've heard, goes through Vegas. So being able to expose what we do here in the South, a city that is known for food, to be in a city like Las Vegas where people are coming from all over the world—to be able to serve them in that environment is really exciting. We're in this thing to do hospitality, and Las Vegas is a hospitality city, so we're really pumped to be in an environment that is built to do what we do, to serve people, and to be hospitable.