It's 4 a.m. and Chef Costas Spiliadis is on the phone with suppliers, ensuring the day's fresh fish will arrive in Las Vegas on time from Portugal and Greece. It's not a direct flight. The fish—all line caught—go through London first before making their way to America, where they will eventually end up at Estiatorio Milos at The Cosmopolitan of Las Vegas.
"He's so hands on," says General Manager Zhaklin Lappas as she surveys the lunchtime crowd on this Tuesday afternoon. "He knows everything about every fish. He inspects every single piece."
Keeping the fish market stocked is as much about meeting demand as it is about freshness and quality, because more and more, Lappas and her team are fielding questions about the Mediterranean diet.
"Everyone is becoming more conscious of what they put in their bodies—heart-healthy foods, fruits, vegetables," she says. "I feel like Mediterranean is what guests are looking for."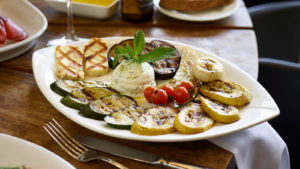 The Mediterranean diet, for the uninitiated, refers to the dining traditions of Greece, Italy, and other parts of southern Europe. Lauded as one of the healthiest diets on the planet, it is an eating approach embraced by Chef Spiliadis, a native of Patras, near the ancient Greek village of Olympia.
Instead of emphasizing meats, heavy sauces, and saturated fats, Chef Spiliadis has prepared a menu at Estiatorio Milos that focuses on making food flavorful through simple additions.
"Rather than adding creams and sauces, you can add a dash of sea salt and olive oil," Lappas explains. "Just like that, you're having the best tomato salad you've ever had in your life.
"The Mediterranean diet has been around forever and it's tried and true," she adds, admitting that the word "diet" can sometimes throw people off, because it implies a fad. Rather, she says, the emphasis should be on the word "Mediterranean."
"Immediately when I hear the word 'diet,' I associate it with the word 'restriction,'" says Las Vegas-based performance coach Arvin Anderson. "There's a reason why there are so many health benefits to the Mediterranean approach, and why people in that area of the world are in better health. It's because they are getting the right food into their bodies in the right amount and consistency."
Anderson, whose MIDY Methods fitness practice highlights eating behavior among the four "pillars" of health—alongside mindset, activity, and lifestyle—says traditional diets have a start and end. The Mediterranean diet is more about taking a new approach and paying attention to the signals your body sends when it likes the foods you're eating.
In a city where you can indulge in every delicacy and some restaurants proudly display their disdain for restraint, you'd think Las Vegas would be a diet-buster, the place where your "cheat day" becomes a "cheat vacation."
But in truth, whether you're dining on the patio at Estiatorio Milos or plotting your weekly grocery list, there are simple things you can do to enjoy a meal like you would on the coast of Greece:
Stock your kitchen with the essentials.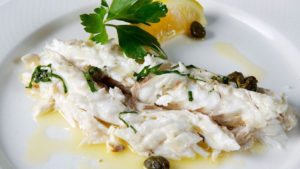 Anderson's list of heart-healthy, nutrient-rich recommendations includes: vegetables, fruits, nuts, seeds, potatoes, whole grains, fish and other seafood.
"Mediterranean meals have a little bit of poultry and red meat very rarely," he says.
Organic is the way to go.
When shopping at the grocery store, stay on the outer perimeters if you want to avoid processed foods and saturated fats.
"I would imagine in the Mediterranean they wouldn't have a lot of processed foods in their markets, even in the middle aisles," Anderson says.
Embrace olive oil.
As opposed to butter or margarine, olive oil – especially extra virgin olive oil – is a much healthier alternative. It can also be used as a mixture for dressings, or a glaze for fish before you put it in the oven.
Know your healthy fats.
"A healthy fat is just a natural source of fat," Anderson explains. "It's very minimally processed."
Omega-3 fatty acids, the kinds found in fish, are among the healthiest fats, and are also good for your heart.
"The three pillars of a diet are your carbs, your proteins, and your fats," Anderson says. "And the Mediterranean diet – or rather the Mediterranean approach to eating – includes all three in a very healthy way."
Zhaklin Lappas photo by Lucky Wenzel.