Birthdays. Graduations. Weddings. Anniversaries. Divorces. Celebrations come in all forms, and Las Vegas is your one-stop-shop to drink in the merriment no matter what the occasion.  So it should be no surprise that when it comes to celebrating Pride, Las Vegas earns its "fabulous" title, in spades.  So grab your party pants, disco dress, or sashay shorts and get ready for a week of being out, loud and proud as we run down the best places in town to get down for Las Vegas PRIDE 2017.
Get on your bikes and PRIDE
Las Vegas PRIDE Ride
Kick off your Pride Week celebrations with a four-mile "glow" bike ride through downtown Las Vegas at night sponsored by Las Vegas PRIDE and RTC Bike Share. Meet up at the LGBT Community Center with your own tricked-out set of wheels (the more lit-up bling, the better), or check out a two-wheeler from the RTC Bike Share for $8.
When: Wednesday, October 18 | 8PM
What to wear: Anything and everything that glows.
All hail the queen
Queen of Sin City Inaugural Pageant
If you didn't know: drag is an art form. Break the barriers of gender identity and head to the first-ever Queen of Sin City beauty pageant at the Dallas Ballroom inside Texas Station Gambling Hall & Hotel. Watch as eight contestants from across the country compete in five different categories: interview, showgirl costume, evening gown, Q&A, and of course, the quintessential talent contest.
When: Thursday, October 19 | 6PM
What to wear: Something as fabulous as you are. Feather boas are encouraged.
Swing on The Chandelier
The Chandelier | The Cosmopolitan of Las Vegas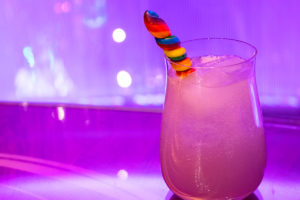 Honestly, is there anything more glamorous than sipping craft cocktails while cloaked in shimmering, beaded curtains of light?  We didn't think so, but then we found out The Chandelier bar inside The Cosmopolitan will be lit in rainbow colors for 10 minutes every hour from Oct. 20 – 21. But that's not all! The multi-tiered lounge is also offering a special cocktail during PRIDE Weekend called "Rainbows Reign," which combines Absolut Pride with Giffard Passion Fruit Liqueur, lemon juice, ginger syrup and a splash of cucumber soda. Even more fun? It has a rainbow lollipop garnish, which makes it look like a magical unicorn. That you can drink. Yum!
When: Friday, October 20 at 8AM – Saturday, October 21 at 3AM
What to wear: An outfit that sparkles as much as the million-plus crystals that wrap around The Chandelier.
Strut your stuff
PRIDE Night Parade
Douse yourself in a healthy amount of glitter and head downtown for the 19th annual PRIDE parade on Friday night. This procession of floats, costumery and community vibes starts heading north on Fourth Street in the Las Vegas Arts District and ends at Ogden Avenue, just past the Fremont Street Experience. This one can get crowded, and there are a plethora of bars ideal for hopping, so don't bother driving and parking—save yourself the hassle (and potential DUI) and rideshare instead.
When: Friday, October 20 | 6:30PM pre-show | 7:30PM parade
What to wear: Rainbow colored everything.
Play in the park
Las Vegas PRIDE Festival
Join LGBT families, couples and singles—along with friends and straight allies—at beautiful Sunset Park, where an entire weekend of celebration, education and expression awaits. This year's two-day PRIDE Festival will feature more than 100 exhibits, booths, vendors and performances—plus just plain great people-watching.  Bonus: This year, leashed pets will be allowed throughout the festival, so bring your furry family, too!
When: Friday, October 21, 2017, Noon – 10PM | Saturday, October 22, 2017 11AM – 6PM
What to wear: Just do you, really. That's the important thing. (And sunblock. Lots of sunblock. Especially if "doing you" looks like a day at the pool.)
Don't stop 'til you get enough
Official PRIDE After Parties
Let's face it: Anywhere you go after the festival wraps up each day is going to be an after party. You'll be so pumped up from the weekend's events, you could just take the crew over to Denny's and whoop it up over a Moons Over My Hammy and it would still be a blast. But if you're looking for something a little more official, there are several sanctioned after-festival events worth checking out, including a late-night drag show on Saturday at Flair Nightclub, a Latin-themed celebration the same night at The BackDoor nightclub, and the Las Vegas PRIDE Finale Party at The Phoenix on Sunday night.
When: After you're done day-drinking.
What to wear: Dress to break hearts and shake what ya mama gave you.
The Chandelier photo by Erik Kabik Photography / erikkabik.com