Let's get this out of the way: the new incarnation of Blue Ribbon at The Cosmopolitan is not a sushi restaurant. Not anymore. That version of chef and restaurateurs Bruce and Eric Bromberg's Las Vegas Strip restaurant closed in January. But reborn in the same space is something that will be much more familiar to fans of the Brombergs' original brasserie in New York City's SoHo neighborhood.
"When we opened Blue Ribbon, we wanted it to have no boundaries," said Bruce. "We could cook what we wanted to, serve what we wanted to, play whatever music in the dining room—we had no dress code, and we didn't take reservations. Where we are now in Las Vegas is that kind of American eatery-slash-saloon-slash-culinary tour. It's really coming into fruition in this space at The Cosmopolitan."
And that space is a beauty. Designed by Asfour/Guzy, the new Blue Ribbon Las Vegas is somehow both casual and elegant at the same time, with exposed ceilings, glazed antique tile and tinted cement. It also features design elements borrowed from the original New York space, such as the vintage lighting, mahogany bar, and banquette fabrics. The restaurant is an entirely open and welcoming space, with the bar greeting you as you enter, encouraging visitors to just walk up and grab a seat.
"With the design of this room, we wanted it to sparkle," Bruce said. "We wanted it to have this special pixie dust in the air. We wanted it to feel like you've been transported somewhere else. It's not the architecture that is the star—it's the vibe and feel that is the star of the room. What happens is the people become the star."
"People are coming to have a great time, and we are thrilled to be a part of that community"
– Eric Bromberg
There's little doubt, however, that the real star here is the menu. Similar to what's offered at Blue Ribbon's original brasserie, the Las Vegas menu draws inspiration from the Brombergs' collective culinary and life experiences. From catfish and pigeon to paella and pork ribs, the Blue Ribbon menu doesn't lean heavily toward any one cuisine—rather, it's more like a greatest hits collection of gastronomic pleasures.
"In building the whole restaurant, we just looked at each other and said, 'What are the favorite things you remember growing up?'" said Eric. "What were meals we had—whether it was at the beach, a birthday dinner, summer at the shore, holiday at grandma's, fondue at a ski resort in Colorado, having a pu pu platter at our local Chinese restaurant? If we wanted to go somewhere we could eat every day in a week and have a different experience, what would our restaurant be? We just got out a pad and started writing."
Those dishes include matzo ball soup derived from a recipe the brothers inherited from their grandmother and fried chicken inspired by delivery fare the brothers enjoyed as kids. "We were two Jewish guys growing up in New Jersey," Bruce said. "Fried chicken wasn't really handed down generation to generation."
There are a few unique items diners will only find at the Las Vegas location, however. The Brombergs took a long look at the brasserie menu and used the new restaurant's opening as an opportunity to both revisit ideas they've touched on in the past and develop totally new dishes. One of those is appropriately called The Cosmopolitan—a towering, multi-tiered platter that's as opulent as the resort for which it's named. It comes loaded with all sorts of delights from Blue Ribbon's raw bar, including oysters, clams, a few shrimp cocktails, a 1-lb. king crab, two whole lobsters, caviar, and a bottle of Champagne, because why not?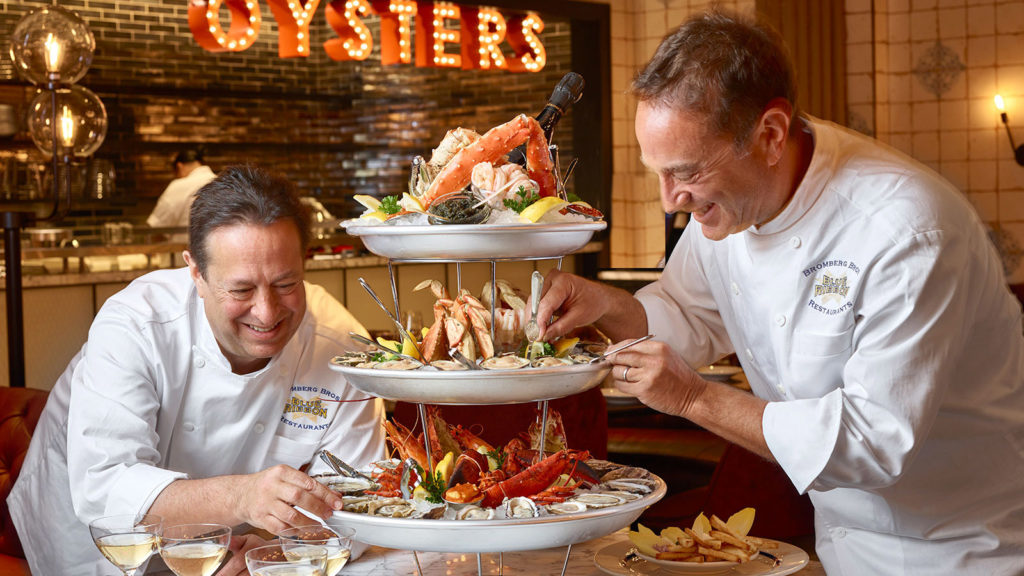 "It embodies what we love about food, what we love about restaurants," said Bruce. "Your mind goes away from everything else when your plate hits the table and you are just really focused on what you are going to get into. When people ask us 'What would your last meal be?,' we always kind of come up with the same thing: An enormous platter of shellfish that could take me a really long time to eat."
One dish that's not unique to The Cosmopolitan location but is absolutely unique to Blue Ribbon is the beef marrow and oxtail marmalade. Served with parsley salt and challah, this is the dish that put Blue Ribbon on the culinary map in a big way, and a visit to the restaurant truly isn't complete without trying it.
"For 25-plus years, every chef who has been to Blue Ribbon, every foodie, will just tell you that that dish changed their life," Eric said. "It's really just something that is moving and exciting and something to be super proud of. We just put it together and it was instantly perfect."
That kind of buzz helped earn Blue Ribbon's SoHo location a reputation as the place where chefs go to eat, its late-night hours perfect for culinary professionals to hang out after getting off work at their own restaurants. On the surface, SoHo and Vegas seem like very different animals, but they also have much in common, especially inside the walls of The Cosmopolitan.
"That concept we started 25 years ago is something that connects with so many different people," said Bruce. "We really think it's going to have that same experience here in Las Vegas. There's such a symmetry between our clientele in SoHo and our clientele in Las Vegas. We see a lot of the same faces in both locations."
"SoHo is an area of New York that is vibrant, that people go to just walk around and get that energy," Eric adds. "It's essentially what The Cosmopolitan is here. You can shop, you can drink, and you can see things happen. People are coming to have a great time, and we are thrilled to be a part of that community."