Most people enjoy the spoils of nightlife without thinking much about the inner workings of their favorite bar or nightclub. But make no mistake, nightlife is a business first (a massive one, at that), and like most industries, its movers and shakers gather annually for a trade show in—where else?—Las Vegas. We visited the Nightclub & Bar Convention / Trade Show this week to get the skinny on the latest innovations coming soon to a watering hole or dance den near you.
Future Pong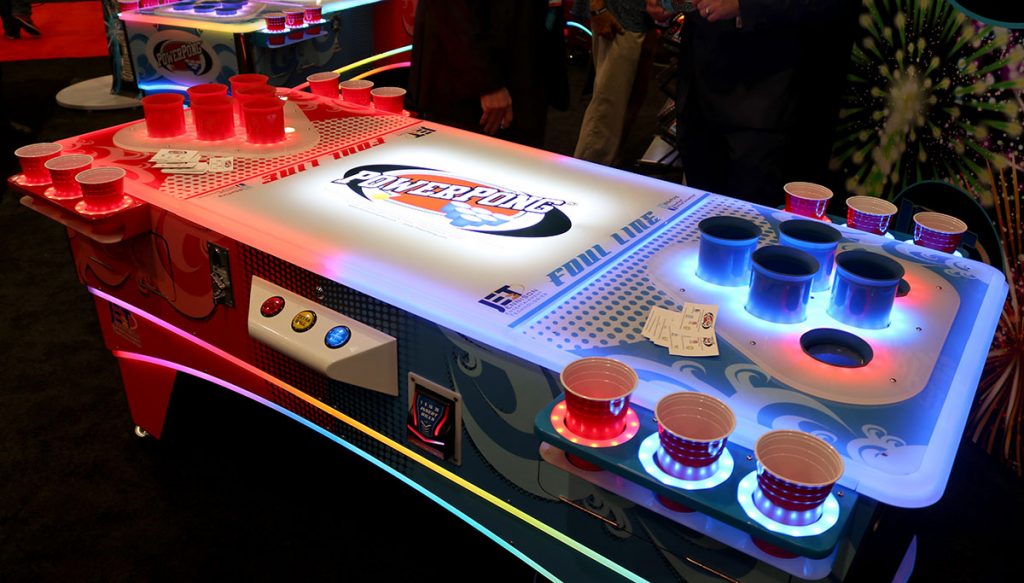 For those of you who are tired of playing beer pong on a secondhand folding table from Wal-Mart, have no fear—there are several vendors endeavoring to bring beer pong into the 21st century. One of these, Jettison Entertainment Technologies, has invented PowerPong, which they bill as "the first full[y] retractable cup pong table in the coin-op world." We have not verified that claim, but we do know their tricked-out beer pong table lights up, has cups that automatically reset themselves, and that we'll probably be just as bad at the game all the same.
Glowing Places
Bars and nightclubs are generally dark places, so it makes sense that there's an entire array of products dedicated to items that glow. Shot containers. Signage. Wearables. And then there's LitUp Beverages, mixers that come ready to light up your next round of bottle service at the club … at least for up to six hours (12 if you don't mind your drinks blinking at you). We're not sure if these are really the "ultimate party drink" as maker Lit Beverages claims, but hey—you can't argue that wherever these are, your party won't be lit. Get it? LIT?
Not Just For Coffee and Cereal Anymore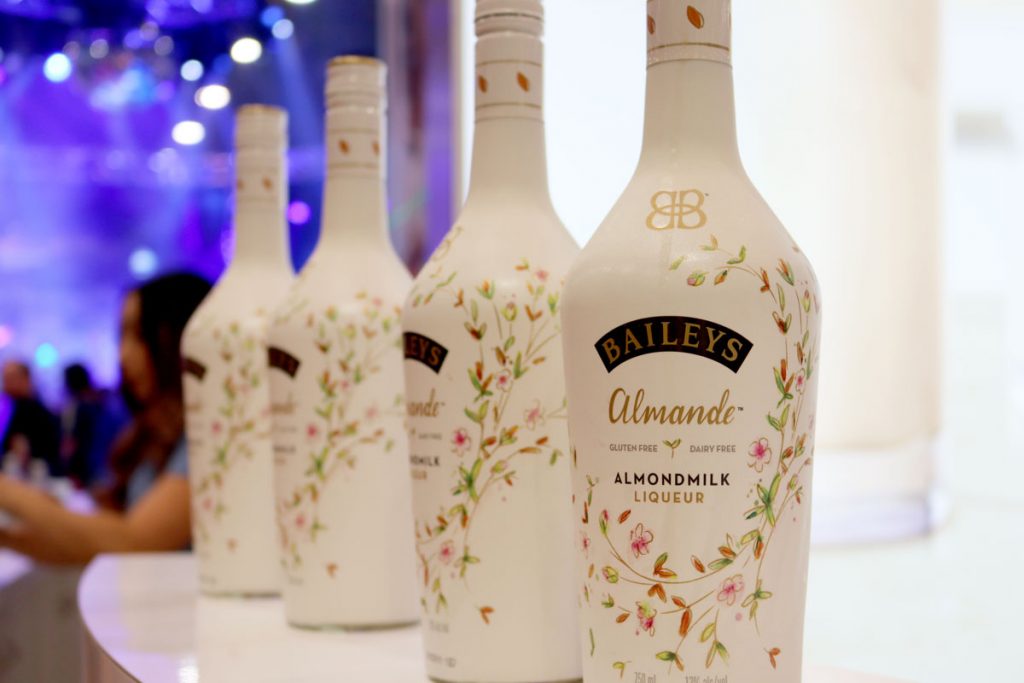 One trend we spotted all over the Nightclub & Bar Show exhibit floor is the infusion of natural flavors and artisanal crafting into everything from mixers to sangria to spirits. Captain Morgan has coconut-flavored rum, Italian import Zamaca is made with Maca, an ancient Andean "super food," and Baileys now offers Almande, a gluten-free, dairy-free almond milk liqueur. So you can get lit without going off the latest fad diet wagon you jumped on after New Year's.
Do You Tip A Robot?
Automation was all the buzz at the Nightclub & Bar show, with machines that automatically blend juices, make Jell-O shots and mix cocktails. Billed as "an advanced robotic drink delivery system," Bbot is basically a basket attached to a ceiling-mounted dolly that lets bartenders send drinks directly to a table. If this cuts down on our time spent waiting for a beer or cocktail, then great, but why not take it one step further and have a robot just make the drinks, too? RoboTender, anyone? We call dibs on that trademark.
A Reverse Breathalyzer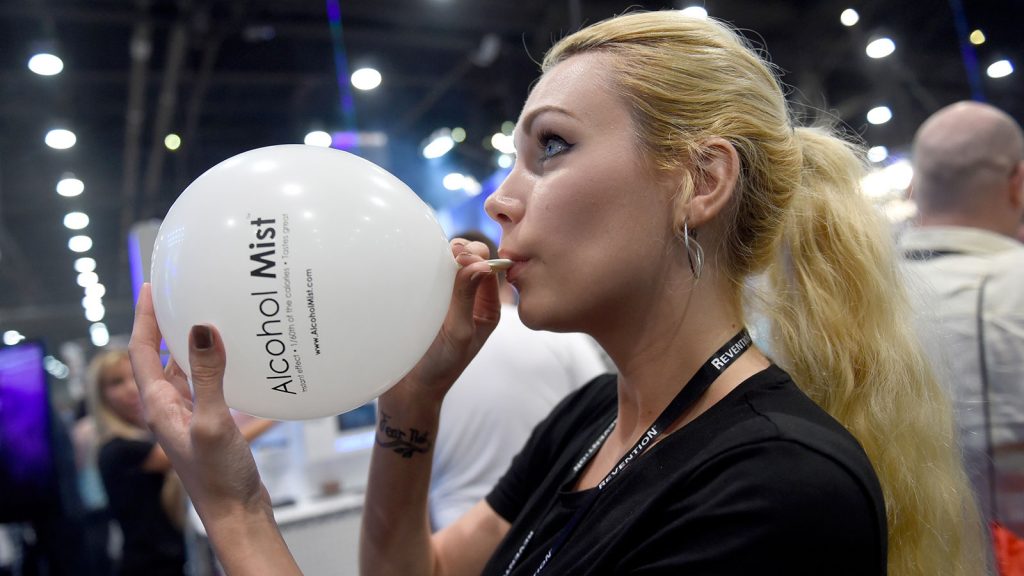 Remember when you were a kid, and you'd inhale the helium from a balloon to make chipmunk voices? (OK, some of us still do it—don't judge.) Well, the makers of Vāpshot (yes, a vaporized alcohol shot, because vaping is just inescapable) unveiled their latest innovation that removes the thing we all enjoy about drinking: the drinking itself. It's called Alcohol Mist, and yes, it's exactly what you think it is: Alcohol diffused into microscopic droplets, filled inside a balloon. It was pretty popular on the exhibit floor, and though one tester at the show reported that it "goes straight to your head," another mist consumer admitted it "burns a little." But, hey, it's only 1/60th the calories of a liquid cocktail.
Alcohol Mist and Nightclub & Bar keynote photos by Getty Images.