When it comes to overindulgence, not many places can compare to Las Vegas. Splurging on luxury accommodations, experiences, award-winning shows, and buffets fit to feed a kingdom is what we do better than anywhere. You know – it's kind of our thing.
But those guests coming to town–especially those visiting for work meetings or conventions–aren't exactly the "meat and potatoes" crowd they once were. They've taken more of a shine to the vegan way of thinking … or is that eating? At any rate, The Cosmopolitan of Las Vegas sees you eating healthier.
"With these requests becoming more of a lifestyle trend, we are seeing [special dietary] requests become 10 percent, all the way up to 25 percent for some groups," said The Cosmopolitan's Director of Catering & Conference Services Paul Whitney. "Before, you could average about 3 to 5 percent of a group would request these items."
Whitney knows a thing or two about making everyone eat happy by overseeing all catering for weddings, group and business events. And he says Las Vegas has always been able to accommodate wide-ranging dietary preferences as tastes change, like new meatless options at our buffet Wicked Spoon.
The Cosmopolitan's restaurant portfolio is similarly following suit. China Poblano, the Mexican-Chinese mashup from James Beard Award-winner and Nobel Peace Prize nominee José Andrés, has a highly acclaimed vegetarian tasting menu among its many offerings; while Estiatorio Milos notably caters to fans of the Mediterranean diet.
"We are focusing a lot on diversifying our existing menus to satisfy broader requests," Whitney said. "For example, we use rice flour for our sauces, so we ensure a dish remains gluten-free."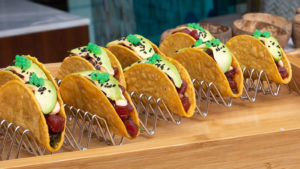 At Your Service
The convention and meeting crowd made up about 15 percent (roughly 6.5 million) of the 42.1 million visitors to Las Vegas in 2018, according to the Las Vegas Convention and Visitors Authority. Whitney said The Cosmopolitan of Las Vegas hosted more than 1,000 of those groups–that's a lot of hungry mouths with varying dietary habits. The process of accommodating special requests begins before those guests even arrive at the resort.
"Usually, groups provide us with a dietary restriction list during the registration process," said Whitney. "Our catering teams then take that information and dissect it down to the finest detail."
The dissection, to use Whitney's words, involves getting to know the eating habits of the individual guest. For example, some visitors who prefer gluten-free enjoy eating meat and can become frustrated if the only gluten-free "alternative" is a vegan dish. The Cosmopolitan's culinary team will find out if a special request is being made because of a lifestyle preference or a life-threatening allergy, which can change the menu offering entirely.
Global Options and a Smaller Footprint
Meeting the dietary demands of an evolving visitor profile is just one piece of the overall puzzle for a city that must innovate to survive and stand out. Whitney said he is fielding more requests for globally themed menus that pull regional favorites from around The Cosmopolitan's restaurant lineup.
"We recently had a customer that wanted us to create the 'best of the best' of street food from different parts of the world," he said. "We created signature dishes, such as paella from Spain, lobster rolls from New England and Chinese dim sum."
Not only must Whitney's team anticipate challenges far in advance, but they must also meet the demands of groups that prioritize presentation as much as the menu.
"A typical buffet usually is built out horizontal and takes up a lot of space," said Whitney. "Our clients were asking us to go vertical and build our buffets up to reduce the footprint."
So what did Whitney do?
"We created rolling bookshelves that take up a fraction of the space and keep the same amount of food available," he said.
Chalk that ingenuity up to Whitney's creativity and The Cosmopolitan's DNA in being one of the few resorts on the Las Vegas Strip built "up" instead of "out."
So what's the next big lifestyle trend that will come to Las Vegas? Vegan shrimp? Maybe all-vegan charcuterie boards?
No matter what, you can bet The Cosmopolitan will be ready for it and the needs of guests in town for anything.