Dayclub (noun): like a nightclub, but during the day. Take world-renowned DJs and add private cabanas, mixed drinks, champagne showers and bathing suits. Oh and a pool, don't forget the pool.
As temperatures rise on the Las Vegas Strip, the aroma of sunscreen-soaked revelry blends with the unmistakable fragrance of each casino brand. Follow your nose and you'll find throngs of scantily clad partygoers lining up for entry to Las Vegas' hottest dayclubs. If you're a newbie to the Vegas pool party scene, don't sweat it–we've put together a little insider's guide to help you make the most of your daylife experience.
The Pre-Pregame
Work out for three-to-six months. Perfect your optimal beach body. Or don't, and perfect radiating confidence instead.
The Pregame
Breakfast is the most important part of the day, so begin your party prep with a solid meal–plus a side of bottomless mimosas. (We hear Wicked Spoon at The Cosmopolitan adds them to your buffet for just $17.)
Remember to apply sunscreen generously and bring more with you to reapply later–sunburns are the mother of all buzzkills. Also, despite all the water surrounding you, it's still a desert out there, so remember to hydrate (mixers don't count). Drink plenty of water before, during and after the club.
The Dress Code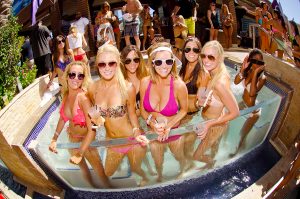 Ladies, bring your "A" game. Bikinis are encouraged, and so are heels. But keep in mind it's daytime, so swap your stilettos for a classic wedge. This is far from your neighborhood pool, so plan on getting gussied up–full hair and makeup. Even better, dress up your bikini with a body chain or chunky necklace.
Gents, this is the one time you won't be turned away for wearing a t-shirt or a hat to the club. Embrace it. That being said, athletic wear and sneakers are still a no-go. Leave the Jordans at home and opt for a pair of leather flip-flops. Pair your sandals with board shorts and your favorite (waterproof) watch, and you're set.
DON'T: Walk around the resort in your skivvies. Instead, invest in a cute cover-up to wear until you're inside of the club. Many casinos have policies about covering up. Who has time to be stopped by security? You've got champagne-soaked fun waiting for you.
To Cabana or Not Cabana?
Benefits of a cabana or daybed include bottle service, personal storage (two hands are often required when day raging), elbow room, a place to sit down, a place to eat, and most importantly, shade—a hot commodity in the desert, especially when temperatures crack triple digits.
Usually, if you reserve a cabana or a daybed, your entry fee will be included in the cost—and you might even get to skip the general admission line. For the traveler on a budget, shelling out the cash for a cabana may be hard to swallow, so grab eight of your closest friends and split the bill. You'll be glad you made the investment.
DO: Book ahead of time. Cabanas and daybeds at Vegas hotspots like The Cosmopolitan are available in limited quantities and prices can increase quickly.
At the Club
If you don't want to drop your cash on a cabana, make sure to bring a cross-body bag to carry your essentials. Some dayclubs also have lockers available for rent. However, your best bet is to leave all nonessentials in your hotel room. Should you want to take a dip in the pool, towels are usually provided, so don't worry about bringing one.
Also important–keep your shoes on unless you are going into the pool. You'll be thankful for the layer between you and the sunbaked pavement.
Have fun and turn up but don't get sloppy–you need to maximize your time on The Strip. The average visitor is only here for 24 to 48 hours, and you don't want to miss out on all the revelry because you're too blotto from your day in the sun.
DO: Always, always leave time for a power nap. You'll need the energy before heading out again to conquer Vegas at night.
Photos courtesy Marquee Las Vegas